DLA+ founder Dennis L. Astorino reflects on 30 years of growth
Building a Legacy of Sports Architecture on Talent, Drive, Trust, and Passion
+

See All Viewpoints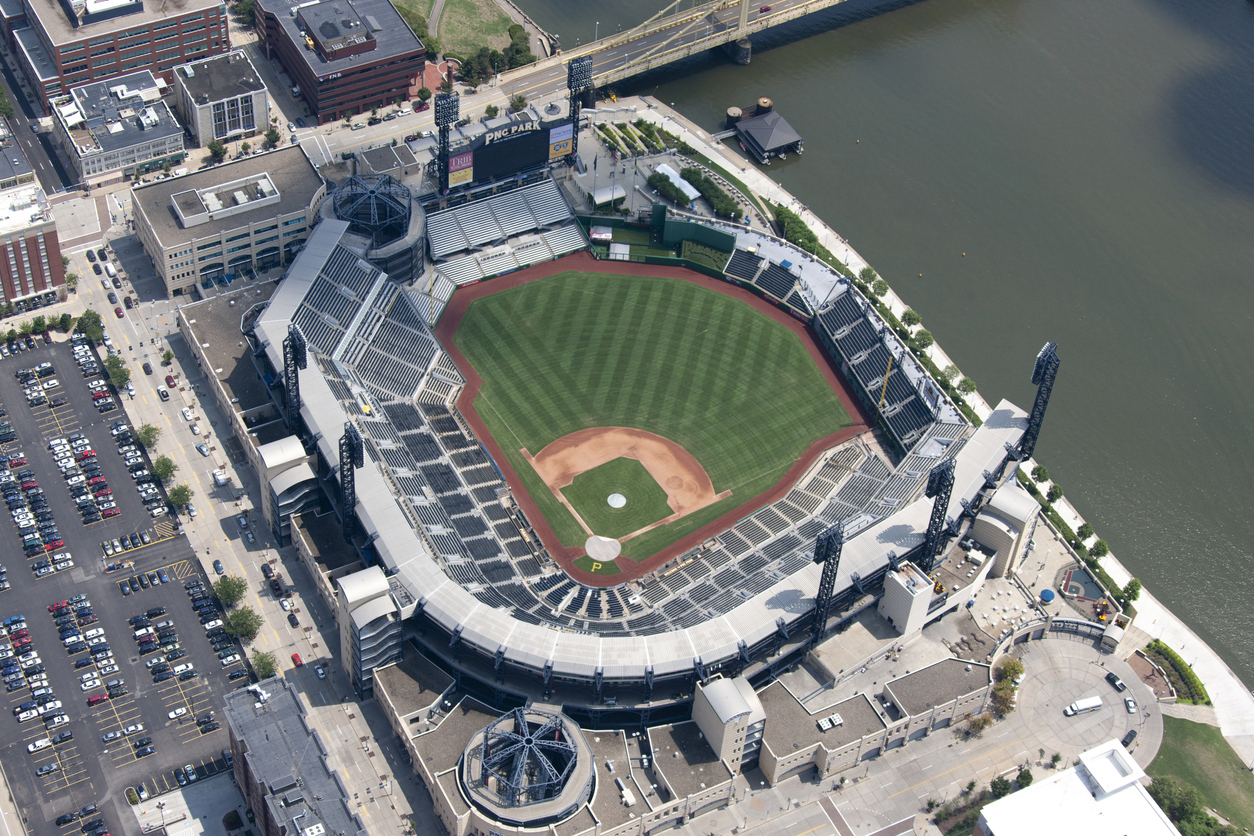 As a student at South Hills High School in Pittsburgh, Dennis Astorino might not have envisioned that someday his talent and hard work would lead him to create lasting landmarks throughout his hometown, and ultimately as far as Hyderabad, India and Palermo, Italy. He also might not have dreamed that his lifelong passion for sports would have a profound impact on his favorite teams and fans, and in defining his career.
Like so many kids in Pittsburgh during its heyday as the "steel city," Dennis grew up as the son of first-generation Italian and Serbian Americans, cheering on his sports idols like Bill Mazeroski and Roberto Clemente. He was raised a product of Western Pennsylvania's famous work ethic, surrounded by the steel mills where his parents instilled the values of integrity and taking pride in an honest day's labor. As a teen, a high-school art teacher encouraged him to channel his innate creativity and design skills into a career in architecture.
"Martha Ball was more than just a teacher; she was a gifted artist who had more talent than anyone I knew. When she saved my artwork and suggested I pursue architecture, there was no looking back," says Astorino.
Channeling Talent; Building a Career
After earning his degree in Architecture from the University of Cincinnati and working in Bristol, England to hone his skills, Astorino returned to Pittsburgh in 1976. He joined the firm his older brother had started in 1972. The addition of Dennis to the team allowed the family business to expand its project management capabilities and increase its sensitivity to amenities, master planning, and architectural detailing over the next three decades. Combined with exceptional talent, expertise and passion, the Astorino work ethic and dedication to clients propelled the company to become one of the most successful and respected firms in Pittsburgh and across the globe.
Over a 30-year period, Astorino grew from four to over 200 employees, completing such landmark projects as the $600 million Children's Hospital of Pittsburgh for UPMC, and the first and largest LEED Silver office building at the time for PNC Bank, Trimont Plaza on Mount Washington, and the restoration of Fallingwater, to name a few. The firm made its way into international practice by becoming the only non-Italian architecture firm to work at the Vatican, designing the Chapel of the Holy Spirit for Pope John Paul II and the UMPC transplant hospital, ISMETT, the first of its kind in Italy. Dennis Astorino was Director of Design and president during these landmark projects.
Drive that Leads to Opportunities
Just as significantly, it was during this time that Dennis's lifelong love of sports began melding with his business career. By the 1980s, through hard work and collaborative relationships, he began building a legacy that today makes DLA+ synonymous with sports architecture leadership across the industry.
A catalyst was Carl Barger, a dynamic civic leader in who became president of the Pittsburgh Pirates Baseball Club, and later established and led the Florida Marlins franchise. Barger had come to appreciate the work of Astorino, and he personally knew the passion that Dennis possessed for his craft and his hometown sports teams. It was Barger who entrusted that Astorino - a "homegrown" architectural firm - should take the lead in some important sports facility projects. First for renovations at Three Rivers Stadium in Pittsburgh, and soon after to rebuild McKechnie Field, the Pittsburgh Pirates spring training facility in Bradenton, Florida. Later on, Astorino would work again with Barger on facility design for the Florida Marlins.
McKechnie Field opened on March 5, 1993. Dennis Astorino was bestowed the honor of throwing out the first pitch at the beautiful new ballpark, as his beloved Pirates took on the Baltimore Orioles for the field's inaugural game. His sons served as batboys and Dennis delivered three-innings of play-by-play with the game announcers. Celebrated author and essayist George Will also attended that day. He applauded the ballpark, praising its character and calling the design "eloquent and intimate." Among other rave reviews, USA Today dubbed the new field the "Fenway Park of spring training stadiums."
Building a Business Through Trust
"Engendering trust is one of the most important success factors in the business of architecture," notes Dennis. "As we earned it with Carl Barger – and with all our clients – trust is acquired one interaction at a time by listening, collaborating, strategizing, problem-solving, working hard and keeping promises. This foundation sets the stage for creativity to flourish, and it's how integrity becomes a pillar of your reputation."
The strength of this reputation allowed the Astorino firm to grow even further. Along with many assignments to design and build office/commercial, higher education, and healthcare structures, the Astorino team was awarded even more athletic facilities projects.
A deeply personal sports project for Dennis was his involvement in the creation of the Roberto Clemente statue. He worked closely with sculptor Susan Wagner and designed the base for the tribute to Pittsburgh's most adored benevolent baseball legend. The statue captures Clemente standing on a granite, glass, and steel diamond. The base includes dirt from his three home fields, which Dennis personally collected at each location accompanied by Clemente's widow. A circular steel rim is engraved with 15 of his career highlights, with one blank space representing the incomplete circle of his life. The statue ensures that Clemente, a hero to Dennis and countless others, will always be a part of Pittsburgh baseball.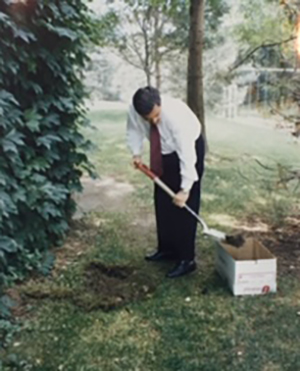 Dennis Astorino gathering Forbes Field soil for Pittsburgh's Roberto Clemente monument outside PNC Park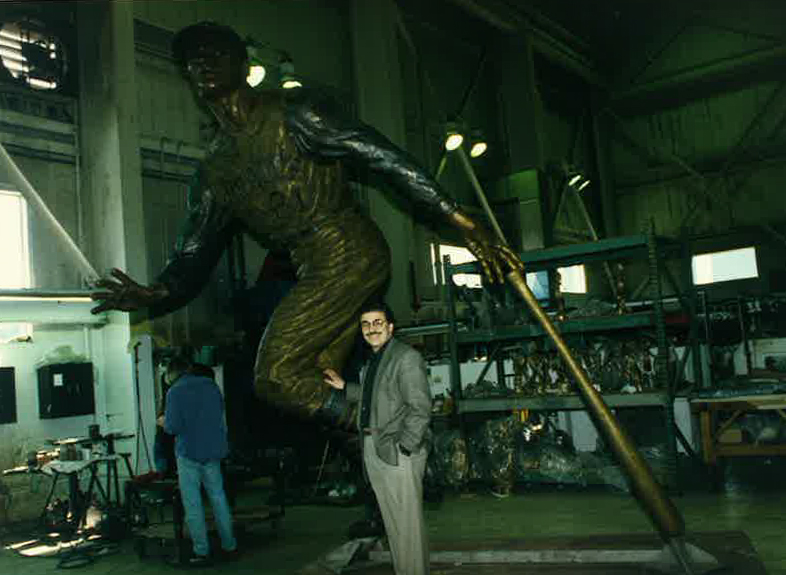 Dennis Astorino with Roberto Clemente statue
Another monumental project was to help build PNC Park, the home of the Pittsburgh Pirates, as the architect of record with the firm now known as Populous. PNC Park was another meaningful initiative for both Dennis and for Christopher Haupt, who also worked for Astorino at the time. After Haupt departed Astorino and built an impressive career portfolio of sports projects and other major accomplishments, he rejoined Dennis at DLA+ in 2011. He now serves as COO.
"Chris was a stellar project manager on PNC Park, and his efforts were instrumental in bringing the project in on time and on budget. We knew back in those days that we were a good team," says Dennis. Their involvement in PNC Park was an exciting milestone in both of their careers. PNC Park opened in 2001 and continues to be recognized with numerous accolades as one of America's greatest ballparks. Two of Astorino's significant projects joined together at the site of PNC Park: The Clemente statue originally placed at Three Rivers Stadium was moved to the Park's entry, and the right field wall at the Park is 21-feet high in honor of Clemente's normal fielding position and uniform number.
Passion Reignited in a New Chapter
By 2008, Dennis Astorino made a life-changing decision to transition from running a family enterprise to opening his own firm. Launching DLA+ Architecture and Interior Design provided Dennis with an exhilarating opportunity to personally build a team and an architecture-focused client portfolio that reflected his creativity, philosophy, strategic approach, and valued work ethic.
The strategy to grow the company was simple: DLA+ would be the firm that clients could trust to integrate their strategic goals into new architecture designs. While Dennis had always recognized that clients appreciate hard work and dedication, he also understood that they value true collaboration. Integrating the client's strategic business plan into the firm's designs through DLA+'s Strategic ArchitectureSM process has time and time again ensured that the facility solves even the toughest of challenges.
Given his proven track record, it's no surprise that athletics and other clients sought out Dennis and his quickly growing firm for their projects. In less than a decade, DLA+ has grown to more than 40 talented staff members, all of whom mirror his tireless enthusiasm for their profession. The company enjoys an 80 percent repeat business rate, with many client relationships spanning multiple decades.
The firm's highly respected Sports Practice has been a major contributor to that growth. While at Astorino, Dennis and his team designed the state-of-the-art sports medicine and training facility for the Steelers, the only one of its kind in the country to share space with an NCAA team (University of Pittsburgh football). He and the DLA+ team have completed numerous renovations for the shared training facility, and both teams' facilities. In addition to being the go-to architect for athletic facilities at Pitt (where he's delivered more than a dozen projects), Dennis and Chris have also worked with Penn State since 1995, first designing its football training facility and now, many projects later, completing the biggest residence hall expansion and renovation in the campus' history.
Dennis's work with the Pittsburgh Penguins' began with a renovation at the Civic Arena and led to Astorino as the architect of record for the team's new arena, CONSOL Energy Center (now PPG Paints Arena) the first LEED Gold certified facility in the NHL. Haupt also worked on the project as a sports consultant as part of the Owner's representative team. The DLA+ team has continued work with the Penguins on renovations for PPG Paints Arena, which was voted Best NHL Arena in 2010 by readers of Sports Business Journal.
An exciting new chapter in DLA+'s sports legacy is now being written. Building on its regional leadership and national recognition in sports facilities design, Sunghoon Jung, LEED AP BD+C, has joined the firm to lead its Sports and Recreation Practice. Jung, an internationally renowned designer, specializing in sports and entertainment venues, is also a lecturer, author, and thought leader in sports and esports industry design and planning.
The addition of Jung to the staff allows both Dennis and Chris Haupt to stay involved in the sports practice with him and key staff to guide the firm's vision and continue delivering Strategic ArchitectureSM solutions for clients. It also opens unprecedented opportunities for the firm to become involved in the fast-growing sector of esports facility design.
"We couldn't be more thrilled to have Sung join our team. His creativity, passion, forward-thinking, and strategic philosophy all align perfectly with our approach, and his expertise significantly builds on the thriving sports practice we've established at DLA+," says Dennis.
Chris Haupt adds that "Sung's experience and thought leadership in the evolution of esports venue design adds an exciting new dimension to our capabilities that few other firms – even internationally – possess."
The DLA+ Sports Practice team has been involved in more than 100 sports projects with more than $1B in constructed value over the past 25+ years. The team has worked with multiple NCAA conferences and Major League franchises. This work consists of Division I work, including Power 5 conferences, ACC, Big 10, Big 12, and Divisions II and III; the NFL, MLB, MiLB, and NHL. In addition, the firm works on an ongoing basis with PNC Park, and Heinz Field, and has worked on projects for the Steelers, Pirates, Penguins, the University of Pittsburgh, West Virginia University, and the Pennsylvania State University.
Dennis might credit his firm's success to hard work, dedication, and persistence. Others, however, would say it's the trust that he and his team build with clients and partners; the contagious passion that starts with Dennis, and his ability to inspire others and believe that they can be successful.