Offering a variety of workspaces could be key
Creating Functional Workspaces
+

See All Viewpoints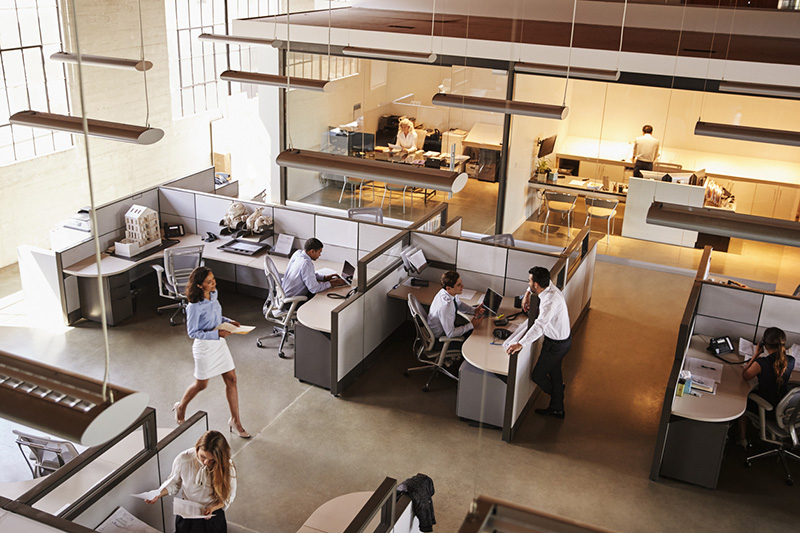 The open vs. private office has been a hot topic in the architecture and design industry throughout the past decade. Office design took a huge leap going from traditional high privacy panels in a sea of cubicles, to bench workstations where employees have zero privacy. How can one satisfy multiple generations with various job functions and needs? According to the 2019 Workplace Survey by Gensler, it's time to move past the closed and open office debate, and instead focus on how companies can better use their workspace.
It is no secret that retaining employees is a crucial objective for any company. Strategies to increase office production, employee satisfaction, and the overall workplace experience have become a major priority. By improving the employee experience and effectiveness, companies have 21% higher profit, 41% lower absenteeism, and 10% higher customer loyalty. However, what type of office designs improve the employee experience?
The key to satisfying the people of corporate America is fairly simple: variety. Open office environments with ample enclosed private spaces ranked highest on both the effectiveness and positive experience scale. According to the Workpace Survey, 79% of people that have a diverse number of workspaces reported to have a great experience at their corporation while only 49% of people without the choice in where they work reported a great experience. The survey also reveals that most people work in neither a fully open nor closed atmosphere; they work in an office that is somewhere in between. Employees are asking for both "me" spaces and "we" spaces in their idealistic office. By having a variety of both public and private spaces, employees can choose the workspace that best suits their needs, which directly correlates with employee performance.
People are looking for spaces that can help optimize their work. These spaces can include outdoor workspaces, dining halls, cafés, collaboration and private workrooms, touchdown spaces, and phone booths. Although all amenities are desirable, areas with a non-work focus such as lounges, game rooms, and break rooms deliver the smallest performance increase among employees.
It is important to remember that no two companies' needs are the same. Before jumping the gun and assuming your client wants an open or private layout, remember that a high-performing workspace is much more than just a space plan. The design needs to offer a variety of spaces for all roles in the hopes of increasing employee efficiency and a positive employee experience.