Using active design to increase physical activity
Key Active Design Opportunities
+

See All Viewpoints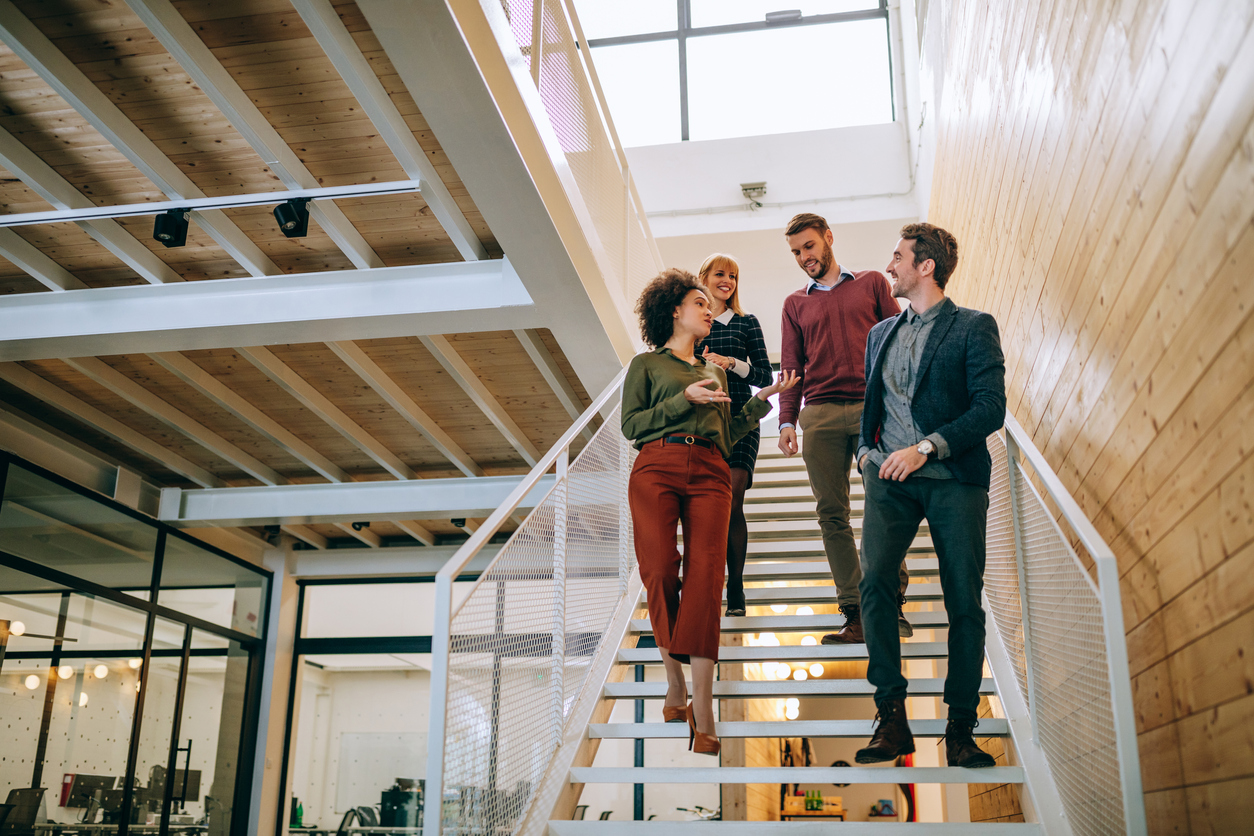 Strategically placed stairs can increase movement among building occupants
According to a report done by the U.S. Environmental Protection Agency (EPA), we spend about 93% of our time indoors. On top of that, an alarming report from Trust America's Health stated 40% of American adults are obese. With health on many people's minds, what can be done to encourage movement throughout the day? It can start with active design principles and transforming interior spaces to inspire daily physical activity.
"Architecture is about how we move through space. Styles evolve and design features change with time, but architects invariably must orchestrate people movement. Architecture cannot be dissociated from the events that occur in a space, and the movements of the living beings who dwell in it," believes Nick Doichev, VP of Architectural Design and Principal at DLA+. Active design, whether implemented in academic buildings, medical buildings, or offices, encourages movement and varies individual's physical positions throughout the day. When it comes to commercial office buildings, active design could even reduce healthcare costs and employee sick time – all while increasing productivity.
The Center for Active Design has four key opportunities companies can take advantage of to increase physical activity among building occupants of all mobility levels:
The building's circulation system - This is the flow of the buildings network systems – hallways, stairs, elevators, ramps, lobbies, etc. Through strategic placement and ease of accessibility, designers can encourage movement while also following ADA requirements. For example, creating a large staircase as a focal point in a building, with elevators off to the side, may influence more people to take the stairs. Another option is to create a focal ramp to connect floors.
The building's specific elements – Elements like gyms, bike racks, locker rooms, and patios can promote activity if they are convenient, desirable, and comfortable. For example, the patio should be large enough to accommodate the building, have varied furniture options, and have shaded areas for occupants to take advantage of.
The building's organization - Items such as printers, mailboxes, and cafeterias should be strategically placed in a building. This can encourage walking between destinations that individuals may use frequently. Activity-based spaces also ensure employees are walking to different areas of the building depending on the task at hand.
The building's activity spaces - Although it's not the only option to encourage movement, providing activity spaces such as pools, gyms, and running tracks can increase physical activity among building occupants. However, the spaces need to be easily accessible and not overcrowded.
In addition to the opportunities above, another piece of the puzzle is to choose a variety of interior furniture options to encourage people to change their posture throughout the day. Exterior design elements can also come into play. Covered walkways, multiple entries, and benches can encourage walking throughout the day.
Companies renovating or constructing a new building should consider designing the space with active design in mind. For those who are not ready to invest in complete renovations, there are reasonable improvements that can be made without breaking the bank. It's important for architects and clients to have conversations about active design and come up with a strategic approach that encourages movement, no matter the type of building. As Tadao Ando said, "I believe that the way people live can be directed a little by architecture."
Check out and download this building checklist from the Center for Active Design. Also, read about how movement can impact your mental health in this Harvard Medical School blog post.