How COVID-19 will change workplace design
Key Considerations for a Post COVID-19 Workplace Reset
+

See All Viewpoints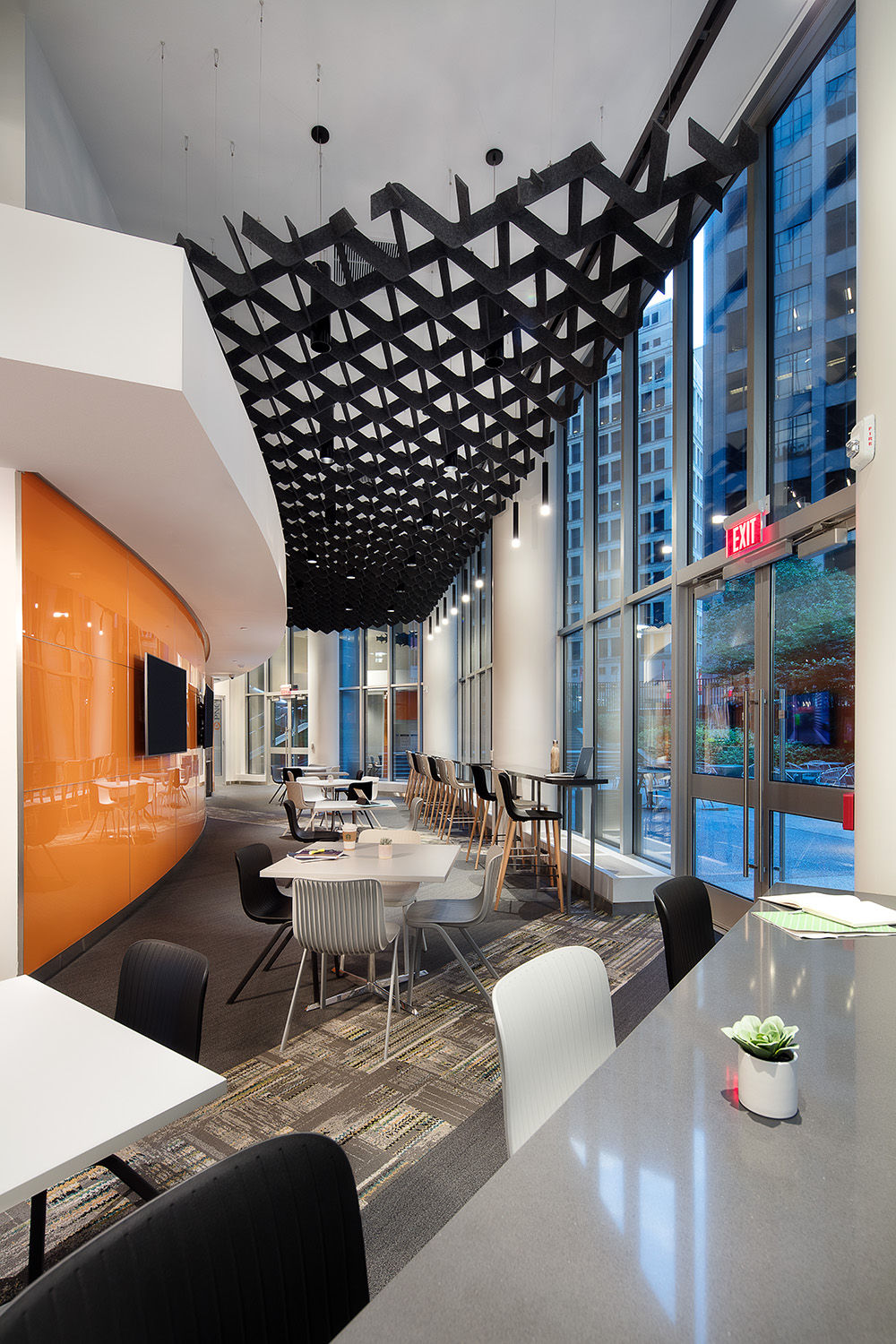 DLA+ Corporate/Commercial Project
As states begin lifting stay-at-home orders and businesses begin reopening, we will have to adjust to a new normal, post COVID-19 outbreak. Employees' health and safety is the number one priority as staff start returning to offices across the country. In turn, workplace design for all sectors – corporate offices, educational facilities, and sports and recreational facilities, will need to be reconsidered to give employees a sense of confidence and comfort in returning to the office. Organizations' planning principles and concepts must shift focus on employee safety and wellbeing, the corporate culture, flexibility, adaptability, floorplate density, social distancing, and division of space.
DLA+'s workplace design experts have developed best practices for reopening, informed by resources such as a recent study published by Cushman & Wakefield. We recommend the following considerations before reopening offices and in the planning and design of future projects.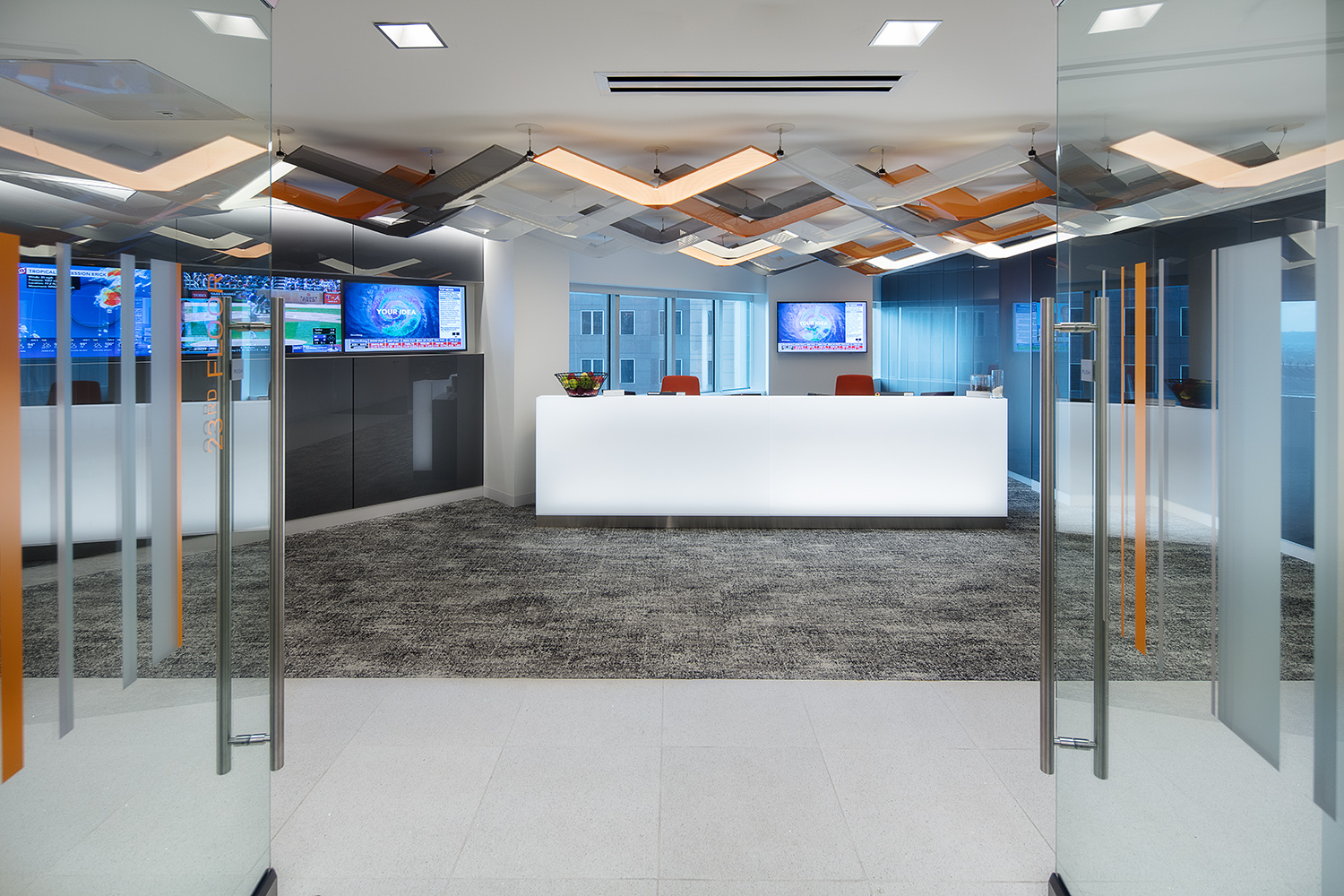 DLA+ Corporate/Commercial Project
The Arrival Sequence:
Implement a wellness check-in process that includes staggered start times for employees, opening stairwells for vertical circulation in addition to the passenger elevators, and temperature checks.
Install wellness stations that include PPE dispensing and disposal and hand sanitization stations.
Incorporate digital displays for messaging on health and wellness policies.
Utilize offline pre-registration or touchless registration procedures to manage visitor access to the workplace.
Reduce touchpoints by installing touch-free control systems for doors and elevators.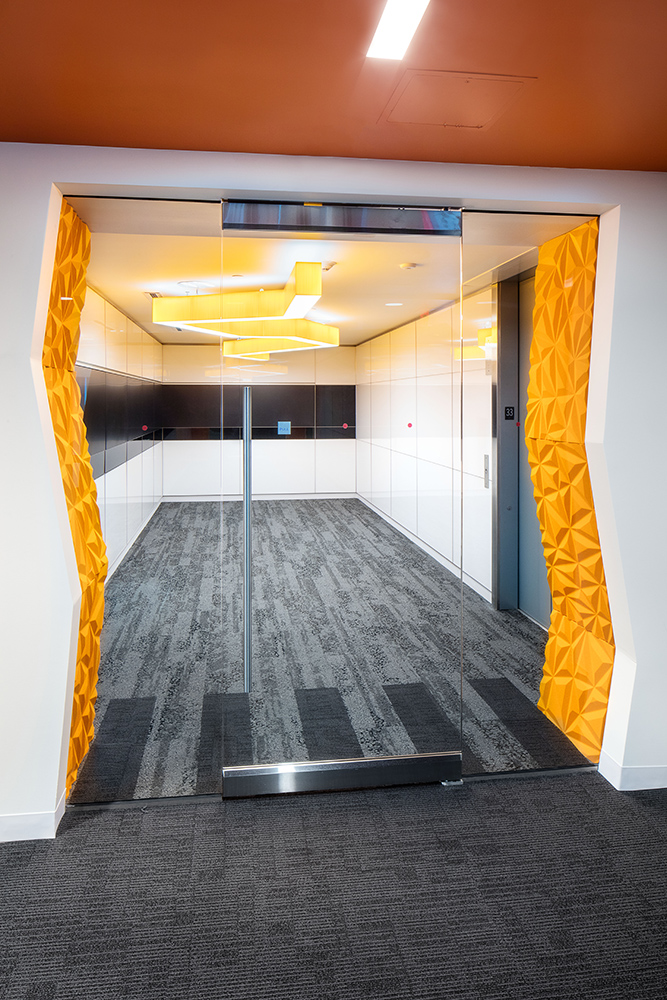 DLA+ Corporate/Commercial Project
Social Distance Monitoring:
Install monitoring devices to track the space use and occupancy density and have these visible to workers upon entry to the workplace.
Enable real-time density monitoring via a smartphone application to give employees access to the density conditions and an idea of which workspaces are less congested.
Offer various workspace configurations that incorporate a variety of social distance planning measures so employees can choose the level of privacy that will make them feel safe and secure.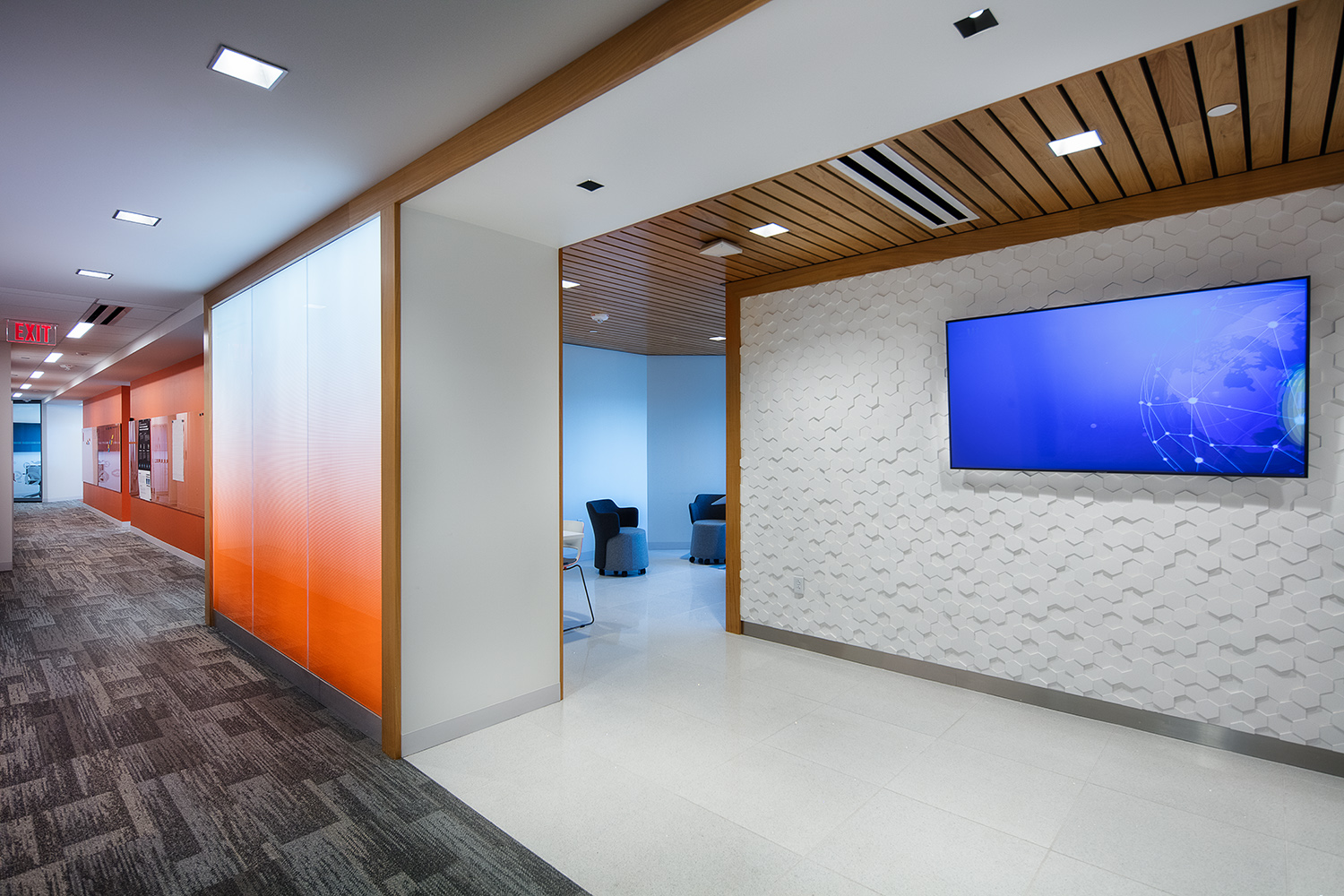 DLA+ Corporate/Commercial Project
Circulation Patterns:
Modify user circulation pattens to eliminate pinch points.
Utilize different flooring materials to define new circulation patterns for safe navigation of the space by employees.
Install highly visible sanitation stations.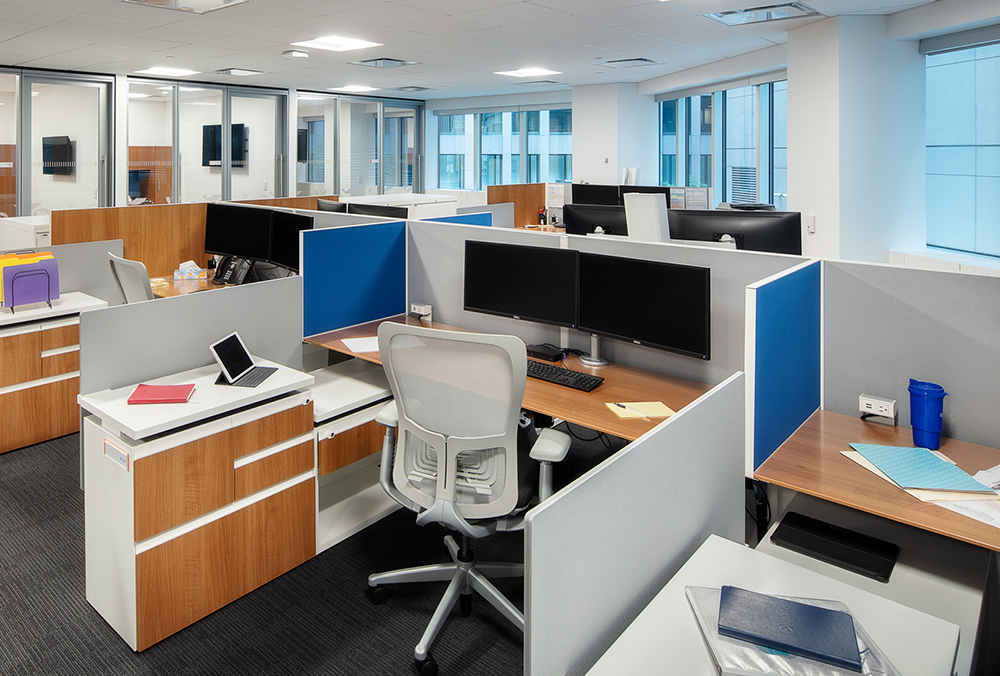 DLA+ Corporate/Commercial Project
Focused Work Areas:
Arrange workstations in a staggered or checkerboard configuration.
Install transparent wellness screens to divide workstations while allowing natural light to filter through the workspace.
Increase the spacing between workstations to decrease the floor plate density.
Implement a clean desk policy with sanitization protocols at the end of each workday.
Provide individual storage assignments for each employee to help keep workstations clean and prepped for sanitization.
Collaboration Spaces:
Repurpose large gathering or training spaces into additional focused workspaces.
Reduce meeting room capacity by removing seats to allow for acceptable social distancing.
Rearrange collaboration lounges to facilitate acceptable social distancing.
Repurpose small huddle rooms by converting them into individual focused areas.
Materials and Technology:
UV disinfectant lighting. (view how one facility is using the technology)
Antimicrobial upholstery.
High-performance fabrics and carpets with solution-dyed yarns that are bleachable.
Advanced air filtration and purification systems.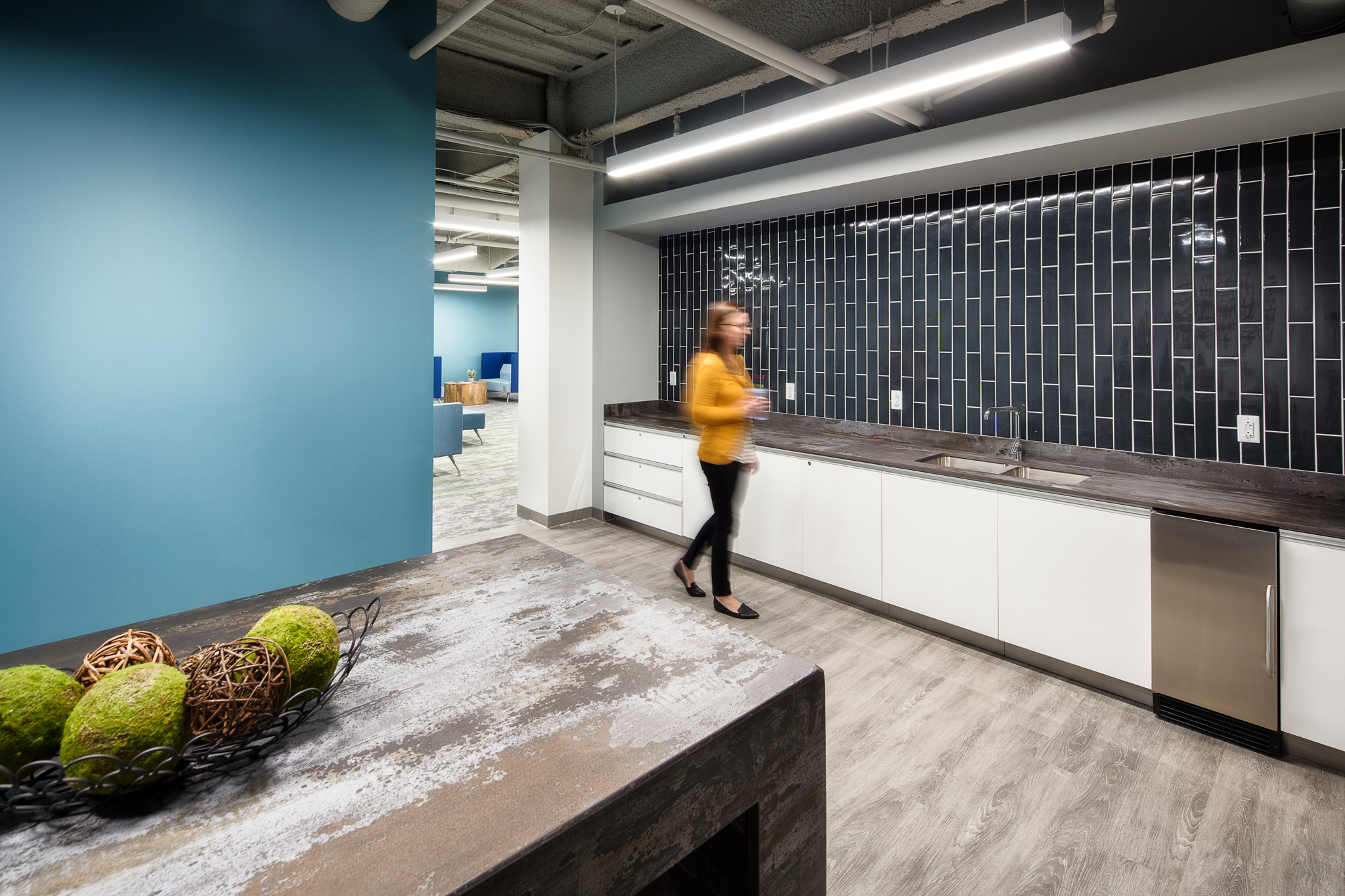 DLA+ Corporate/Commercial Project
Reduce Touchpoints:
Install automatic soap dispensers and faucets around the office and in shared amenity spaces such as toilet rooms, panties, food halls, and cafes.
Provide sanitation stations near collaboration spaces, service centers, and at all room entry points.
Automate lighting controls, room scheduling, and temperature controls with smartphone applications.
Utilize wireless technology connections in meeting rooms for personal laptops.
Eliminate shared collaboration tools such as conference room phones and shared dry erase markers and erasers.
Centralize and secure office supplies and create a distribution plan.
Centralize deliveries and create a delivery management program.
Implementation of these planning and design considerations for a safe workplace can unfold in three phases depending on the circumstances. Crowdsourcing should be used to collect data that will give insight into what planning considerations are critical to the employees.
Phase 1 Short-Term Planning: Retrofitting for essential staff day 1
Phase 2 Mid-Term Planning: Reconfiguration for 75%-100% of the workforce return
Phase 3 Future Planning & Design: Through crowdsourcing and analysis of how the reconfigured space is being used, determine what workplace planning principles will best support the design of future workplace projects.
There is much to do in all design sectors as we prepare a safe and healthy environment for our return to the office. These workplace changes are going to evolve as new COVID-19 information is released. It is important for businesses and institutions to stay flexible and focus on staff wellbeing during this transition to our new normal.

Please contact Jennifer Pavlik, NCIDQ, Principal and Interior Design Practice Leader, to start a conversation about how our Strategic ArchitectureSM process can be used to evaluate incorporating these post COVID-19 planning principles and concepts into your space.

Sign up for our newsletter to receive the latest industry trends and insights delivered straight to your inbox!