Part three of our workplace amenities series focuses on Makerspaces
Makerspaces – Are They Useful in the Corporate World?
+

See All Viewpoints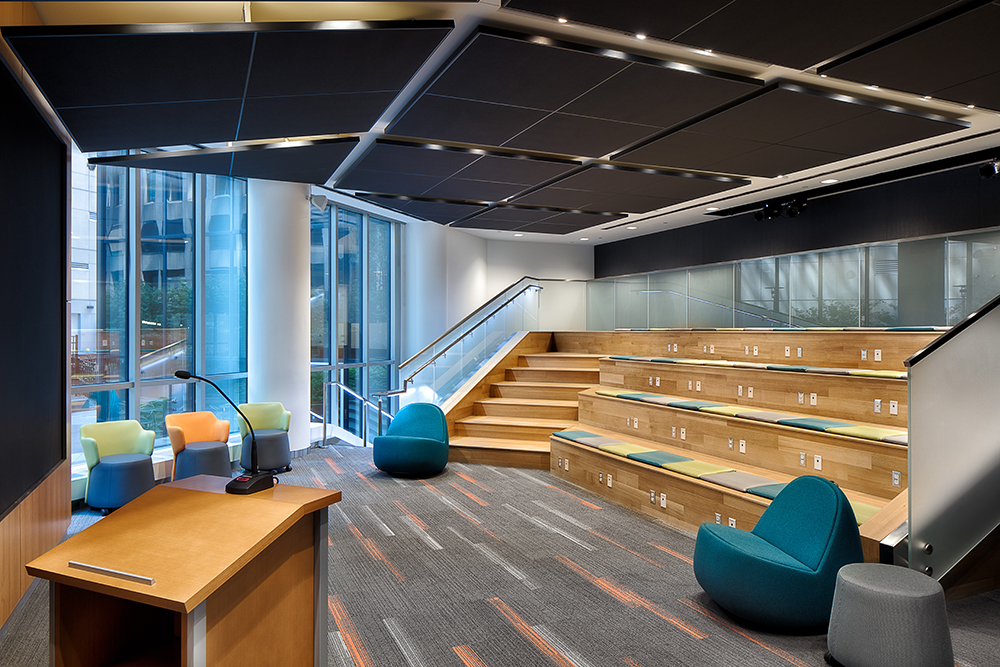 The trades are becoming increasingly popular due to the upsurge in construction. Starting as early as preschool, experimental learning has been an invaluable part of education. Many educational facilities want to bridge the gap between academics and trades. Makerspaces are becoming more popular in schools to provide this type of learning to most fields. The space can provide an area for brainstorming, experimenting, collaborating, and changing hypotheses based on experimental outcomes.
Forbes ranked the Pittsburgh Institute of Aeronautics (PIA) in West Mifflin, PA the #1 two-year trade school in 2019. PIA, a recent project by DLA+ Architecture & Interior Design, has numerous makerspaces throughout its aircraft hangers and classrooms. Educational facilities clearly value makerspaces but what about the corporate industry?
We have seen collaboration in the workplace as a growing trend over the past decade. Due to the increase in collaboration, areas such as hoteling spaces, collaborative spaces, team huddle rooms, etc., have been incorporated into office design to give employees space to work together. The old saying "two heads are better than one" is now true for many corporations. Not only are corporations promoting teamwork, but they are also providing the teams makerspaces to aid in productivity and successful outcomes. In fact, Gensler's 2019 U.S. Workplace Survey found makerspaces to be the second highest ranked office amenity.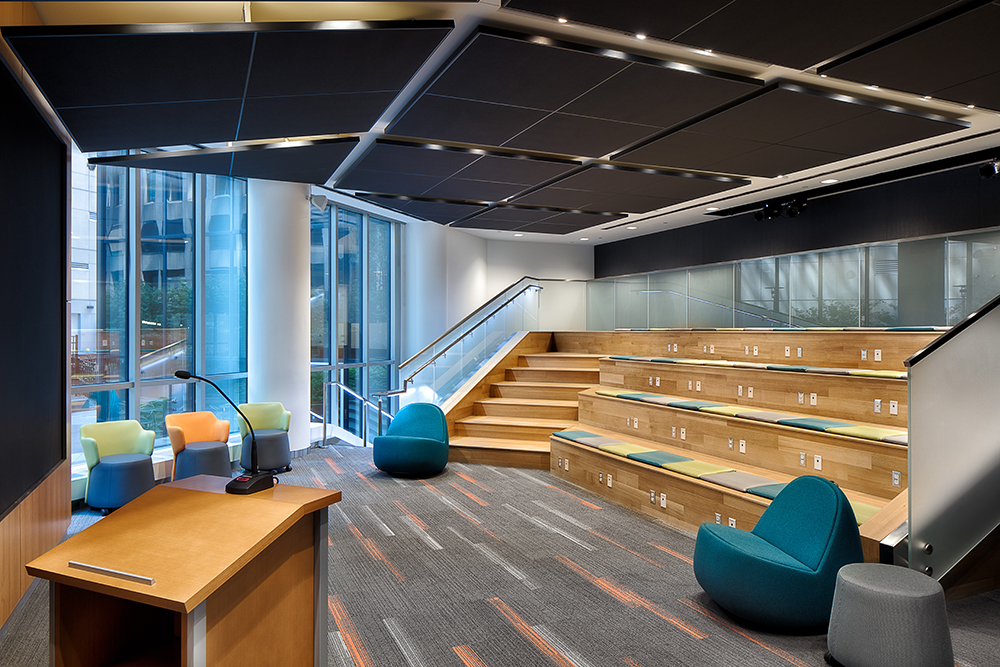 DLA+ Corporate/Commercial Renovation - Speaker's Corner
Many companies are now using makerspaces as a guide to incorporate more collaborative and learning opportunities in a traditional office setting. A large corporate client of DLA+ recently renovated a high-rise office building to include things such as a speaker's corner, war rooms, and collaborative spaces. All serve as gathering spaces for teams to collaborate, experiment, present ideas, and learn.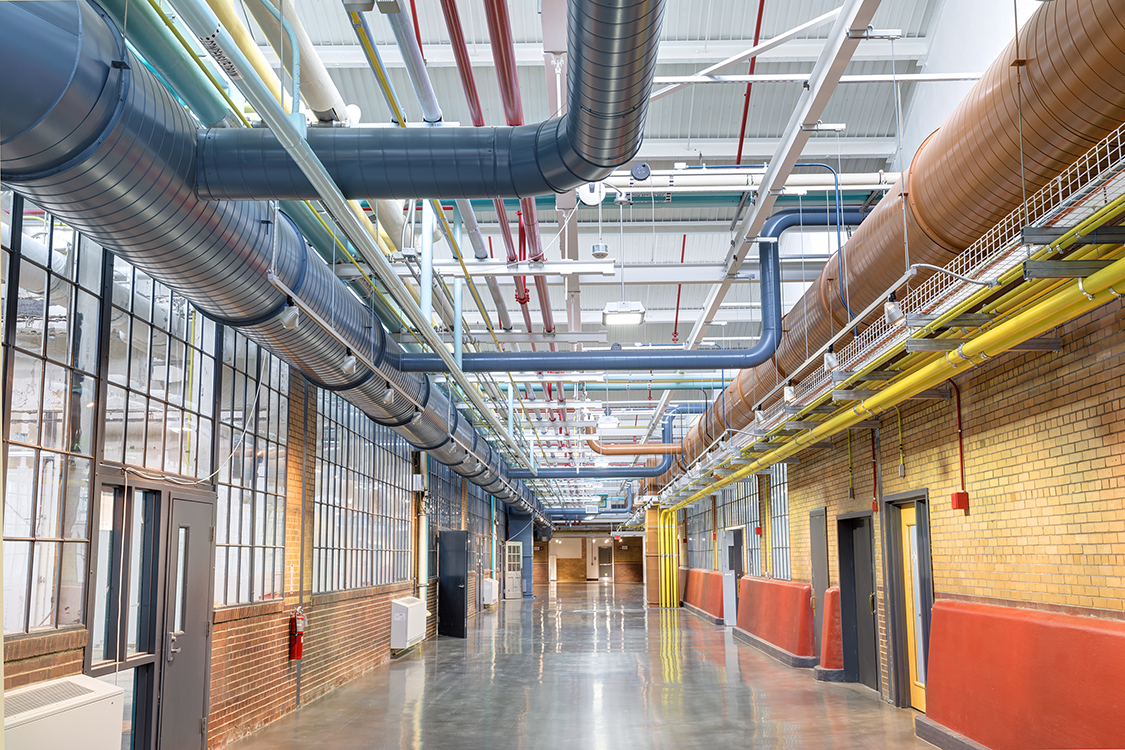 DLA+ Energy Innovation Center Project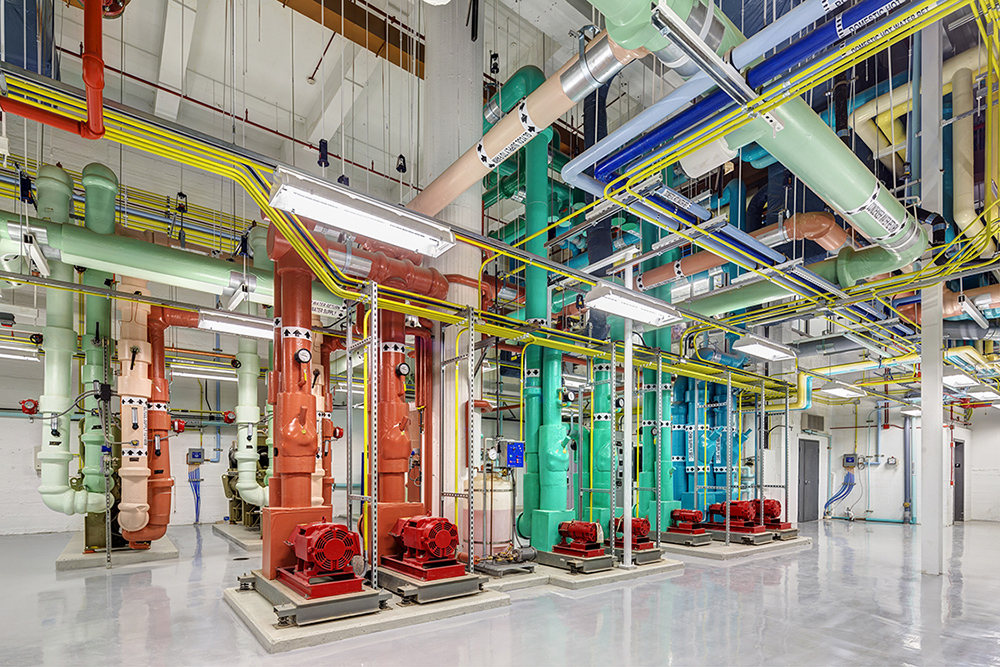 DLA+ Energy Innovation Center Basement Learning Area
A few years ago, DLA+ worked on an exciting project converting an old trade school into corporate space for small businesses, start-ups, and incubators. Formerly known as the Connelly Trade School, a part of Pittsburgh Public Schools, the Energy Innovation Center (EIC) is now a sustainable and energy technology hub that acts as a training center for professional certification, a school to teach students energy and sustainable practices, and lastly a tenant space for businesses and start-ups. The area is conducive to learning, experimenting, and growing. This project illustrates the transition of makerspaces from a strictly educational setting to a corporate commercial setting.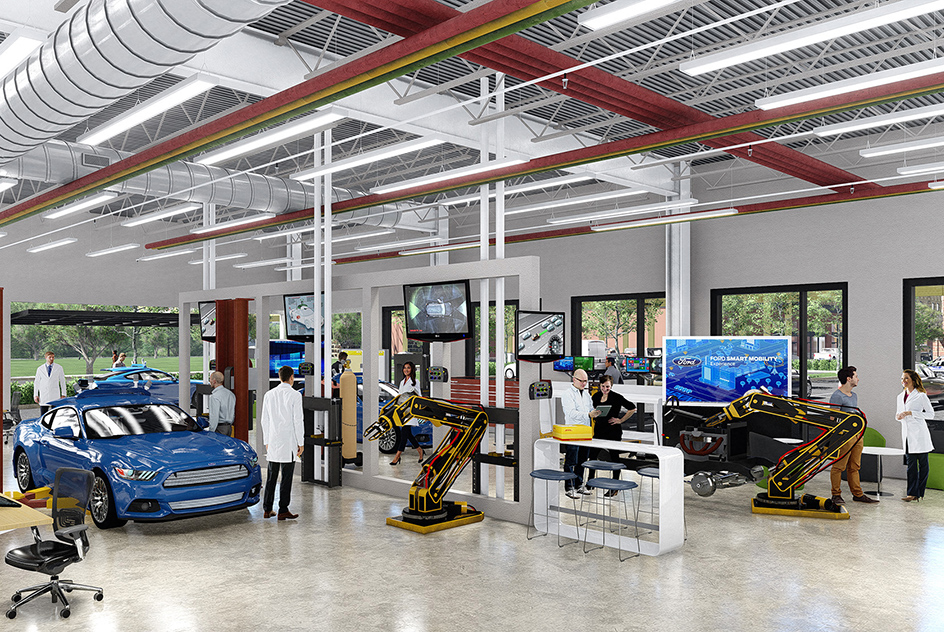 DLA+ Original Rendering of District 15
Similarly, District 15 was originally designed as a corporate space that could attract tech companies and potentially house a self-driving car company. As shown in the renderings, the plan was to have large ceilings, garage doors opening to the outside, and bays equipped with technology to experiment and room to collaborate.

Makerspaces have become a staple in many educational institutes and facilities. With the increase in technology companies and start-ups, we can see the trend starting to carry over into corporate commercial spaces. By providing employees with a space to collaborate, efficiently work together on projects, and present ideas, companies are arming them with the resources they need to be more productive and effective. Makerspaces are valuable in the corporate commercial world and it's a trend that will continue in the foreseeable future.

For more information on office amenities, check out our post on the top five office amenities that are worth the investment.

Sign up for our newsletter to receive the latest industry trends and insights delivered straight to your inbox!