Part two of our workplace amenities series focuses on innovation hubs
Office Amenities Checklist: Innovation Hubs
+

See All Viewpoints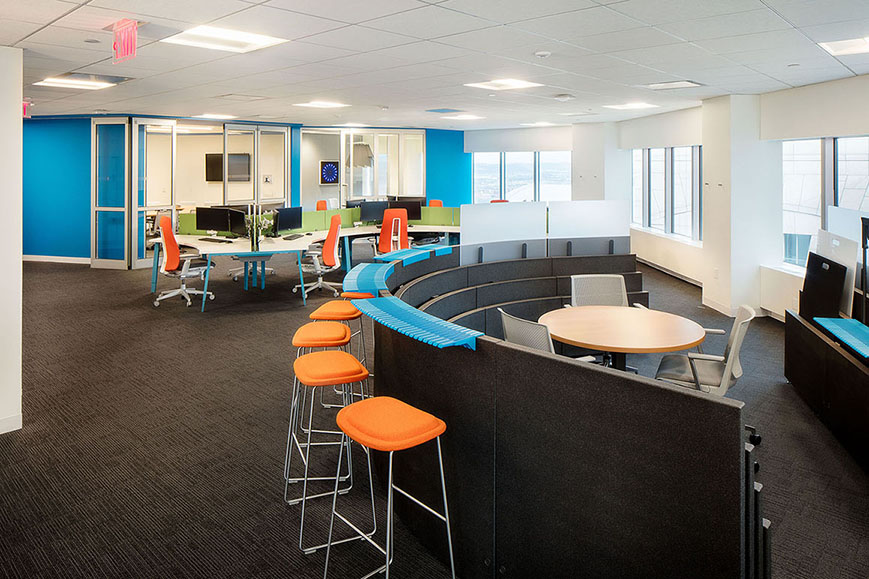 When we think of workplace amenities, some of the extreme examples might come to mind such as game rooms, fitness centers, nap pods, and catered cafeterias. While these office perks sound pleasing, these types of amenities don't always support effective work habits and overall productivity. Office corporations need to focus on amenities that deliver high efficiency and positive experiences to increase employee satisfaction and performance. According to Gensler's 2019 Workplace Survey, innovation hubs are one of the top amenities sought out by employees because it provides the resources needed to work in an environment focused on creativity and development.
Studies show that employees who occasionally work in different locations away from their desk, often perform better while enjoying their work experience more. Although, there needs to be a balance. Not enough time at the desk leads to unproductivity, while too much time at the desk leads to lower experience scores. Amenities such as innovation hubs are a perfect example of a feature that can promote effectiveness and positive work experiences.
Innovation hubs are communal workspaces that foster conversation through creative learning, technology trends, and strategic planning. People come together to bring specific insight on engaging topics and bounce ideas off each other to come up with solutions. Innovation hubs can offer employees the resources they need, while working in an atmosphere of their choosing. This amenity is designed to assist technology companies in acquiring new customers, develop new tools, compete in new markets, and more.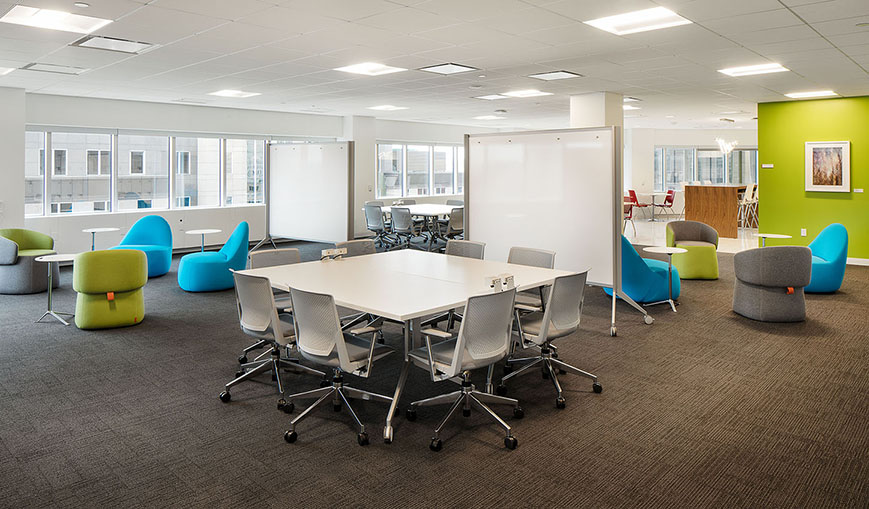 DLA+ Corporate Commercial Project
DLA+ has put this amenity to use for some of our clients including one large corporate/commercial client. We were given the task of creating a whole Innovation floor for the employees. This space included large and small group collaboration rooms, as well as open layout workstations. To enhance the overall experience in the innovation hubs, we included various types of seating groups throughout the open office to allow variety and choice. For example, whether it is soft seating chairs, high-top tables, or single user phone booths, there is an innovation space for everyone. We also placed mobile pin-up screens and marker boards throughout the space for ease of flexibility.
By providing an innovation hub to your employees, you are offering them a chance to step away from the traditional desk environment and giving them the opportunity to work in collaborative spaces that foster innovation and creativity.