Part four of our workplace amenities series focuses on outdoor workspaces
Outdoor Workspaces – Do they benefit Employers and Employees?
+

See All Viewpoints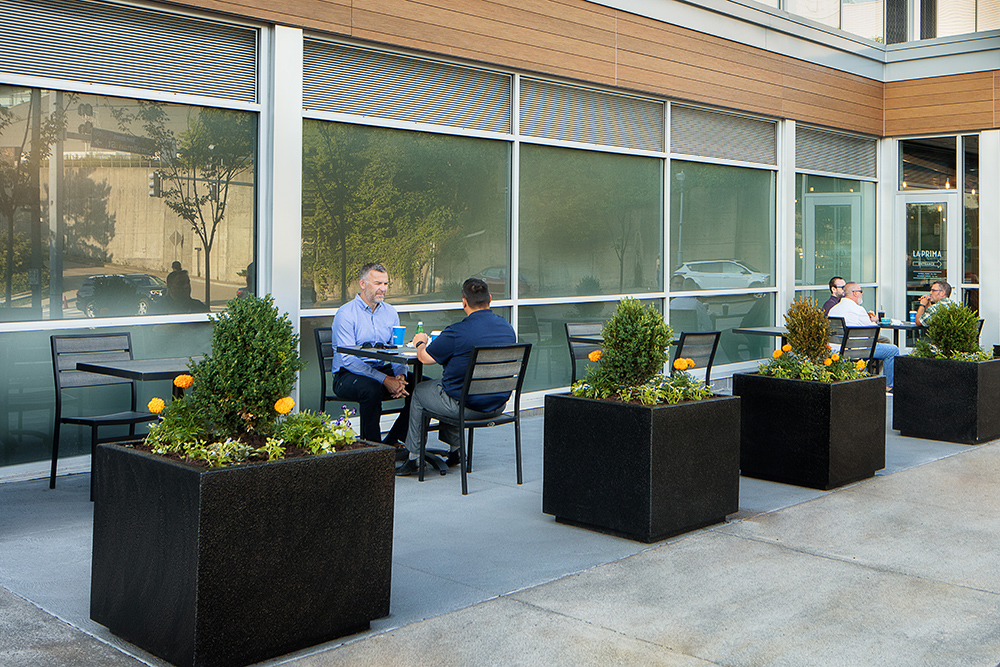 Employers often ask the question: what will not only attract new, young talent but also what will retain that talent? Gensler's 2019 U.S. Workplace Survey office polls have shown that over 70% of employees who were given a variety or choice of workspaces report a great workplace experience. Offering choices of workspaces permits employees to feel empowered to make the choice of how they want to work and what works best for them to increase productivity. With biophilic design increasing in popularity, why not take that a step further and create outdoor workspaces?
Working outside on a beautiful day energizes and aids in employee wellbeing. A recent article written by Christine Menapace discusses the benefits of outdoor workspaces. The article shows:
74% of workers thought moods would improve
71% of workers thought stress would decrease
69% of workers thought they would feel more relaxed
66% of workers believed it would promote health and wellness
64% of workers believed it would increase happiness
77% of workers are most likely to use outdoor space for creative work
73% of workers are most likely to use outdoor space to brainstorm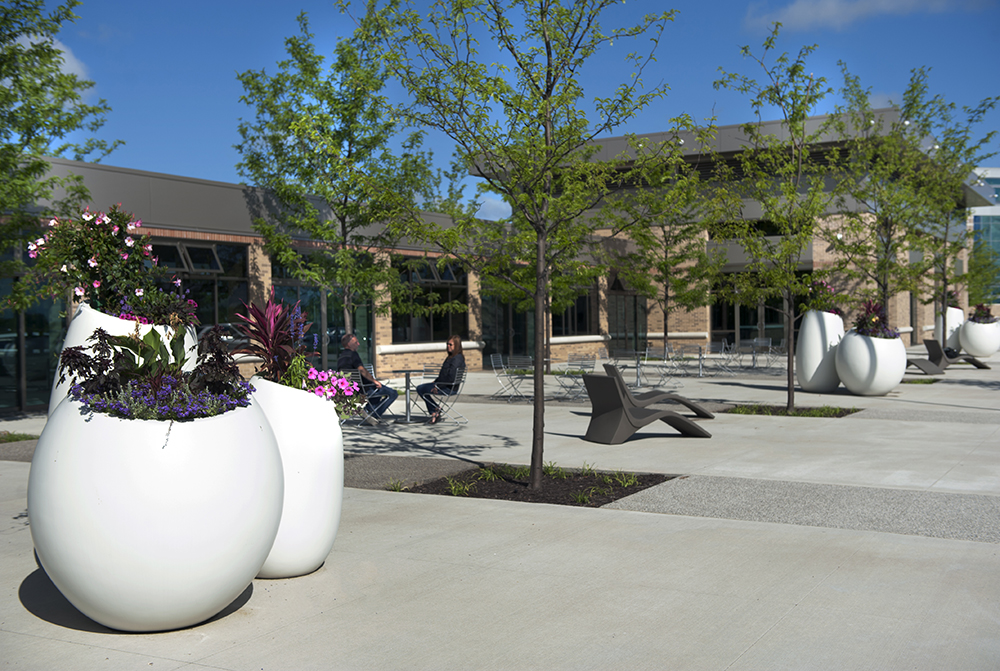 DLA+ Crown Castle Project
DLA+ Architecture and Interior Design worked with Crown Castle when they purchased buildings in Canonsburg to design and construct a connecting corridor between the two buildings with a pavilion in the middle. This glass connector helped create a campus that brings the outdoors in while allowing the space to be used all year.

Another recently completed DLA+ commercial project in downtown Pittsburgh has a small outdoor courtyard right off an indoor work café. Not only does the courtyard serve as a connector between the buildings of the campus, but it also gives employees a place to decompress outdoors, hold casual meetings, or work individually while getting some fresh air.

If employers are not ready to commit to outdoor co-working space for employees, companies such as LiquidSpace, which is the Airbnb of office space, has more than 5,000 outdoor workspaces for rent either by the hour, by the day, or longer.

Outdoor workspaces benefit not only employees but also employers. Employers experience the benefit of healthcare claim savings and more engaged, productive, and positive employees. Outdoor workspaces are a good, versatile solution for both the employer and the employee.

For more information on office amenities, read our post on workplace amenities that are worth the investment.

Sign up for our newsletter to receive the latest industry trends and insights delivered straight to your inbox!