Ways to achieve an inclusive office design and why it should be a priority
Prioritizing Inclusive Workplace Design
+

See All Viewpoints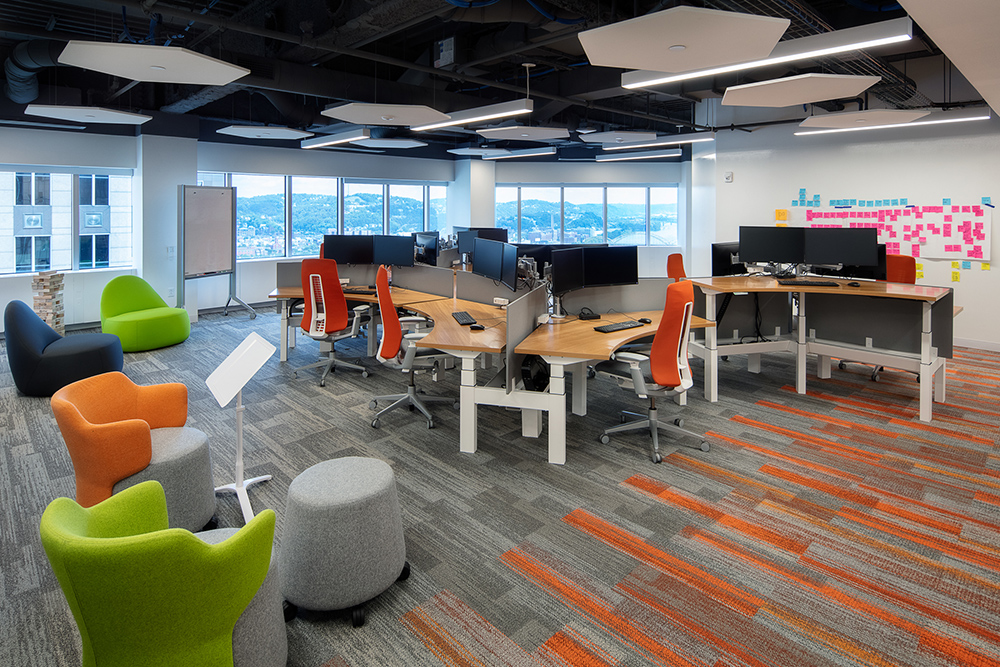 Late last year, the U.S. Bureau of Labor Statistics reported that women officially outnumber men in the workforce, and this trend is expected to continue. This is but one example of how the workforce is becoming more diverse, and it is time we place a higher priority on inclusive design. Inclusive workplace design not only makes employees feel more welcome, but it can also aid in attracting top talent, improving employee retention, improving mental wellbeing, and improving productivity. The most important factor when designing for diversity is offering employees a variety of workplace environments.
Inclusive office design should focus on the overall employee wellbeing, addressing physical limitations, working styles, and mental health needs. However, solutions should be subtle and not draw attention to particular groups of people. Below are a few design concepts that can help create a more inclusive office environment.
Flexible Amenities:
Sit-stand desks – The flexibility of sit-stand desks gives employees the option to do what is most comfortable for them. Desk height preferences could change depending on the type of work that is being done.
Variety of sitting areas – Amenity spaces and sitting areas should be varied – lounge seating, bar seating, and various ergonomic options all create a variety for employees. This enables employees to choose appropriate seating for their needs and gives them an opportunity to adjust their posture throughout the day.
Work cafés – Work cafés offering quick and healthy options can be very convenient for busy on-the-go staff. Cafés can be part of a workplace wellness strategy and provide a pick-me-up throughout the day. They can also act as another work and socialization area.
Workplace Essentials:
Lighting – Provide various lighting options throughout the office and the ability for employees to control lighting in their workspace. Migraine sufferers may want a more muted, dim light while others may need a brighter light to perform their tasks.
Temperature control – Productivity can decrease when someone is too warm or cold. Meeting rooms, quiet rooms, etc. should have temperature control ability.
Smart building technology – Smart technology offers employees the ability to preprogram lighting, heating/cooling, and blinds to their desired levels. Touch-free and programable systems will be increasingly important due to the current coronavirus pandemic.
Private, gender-neutral restrooms – Gender-neutral restrooms support a more inclusive environment and can be beneficial for a variety of employees – offering more privacy and flexibility.
Work Style:
Coworking/open environments – Open office spaces are suitable for a variety of workplace activities and may appeal more to extroverts who are more productive in a collaborative environment. Some employees prefer to have a little background noise as they work.
Quiet rooms/zones – Quiet rooms and quiet spaces in the office offer concentration and reprieve. Such spaces may appeal more to introverts who need a place to escape throughout the day, or to extroverts looking for focus time.
Wellbeing:
Recreation rooms – Recreation rooms such as lounges, cafeterias, or game rooms can be used to socialize and take a mental break from work when needed.
Yoga/fitness rooms – On-site rooms designated for fitness can reduce stress, boost energy levels, increase focus, and improve employees' overall health and wellbeing.
Meditation/new mother's rooms – Meditation rooms provide employees with a relaxing environment to recharge. They should be quiet, private spaces with muted lighting and colors. Similarly, new mother's rooms are quiet and inviting spaces. Rooms should be private, include a small refrigerator, outlets, and maybe a small locker where mothers can store their equipment.
Offering a variety of workspaces, amenity spaces, and furniture options are the most important factors in achieving a more inclusive office environment. The best way to find out what would work for your office is to engage employees and users in the beginning stages of design; talk to employees, send out surveys, find out where and under what conditions they feel most productive. Workplace inclusivity is going to continue to be an important component in office design, so it is best to start implementing changes now. In the long run, designing for diversity can help with a company's recruiting, retention, and the overall bottom line.
For more information on inclusive workplace design, check out these articles by Forbes and JLL that explain the benefits of creating an inclusive office and how to achieve a welcoming space for all employees.